Buy GS1 UPC Barcodes
GS1 US is the US organization, which establishes identification standards for various industries (i.e. retail, healthcare) and licenses unique GS1 Company Prefixes, which are necessary to create UPCs. Bar Code Graphics certified GS1 Consultants and Standards Professionals will process your GS1 Company Prefix application, assist with UPC management, and create compliant UPC barcodes for your products.
| | | |
| --- | --- | --- |
| Number of Items Needing a UPC Barcode | BCG GS1 UPC Barcode Services* | Total Annual Renewal Fees** |
| 1 – 10 | $400 (incl. GS1 fee $250) | $150 (incl. GS1 fee $50) |
| 1 – 100 | $1000 (incl. GS1 fee $750) | $300 (incl. GS1 fee $150) |
| 1 – 1,000 | $4,500 (incl. GS1 fee $2,500) | $730 (incl. GS1 fee $500) |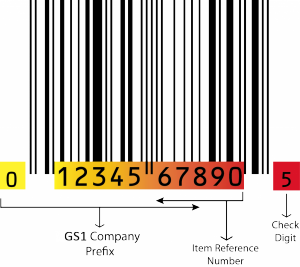 Expedite Obtaining GS1 Company Prefix:
Obtain unique licensed GS1 Company Prefix to create UPC assignments
Establish account at GS1 US Data Repository (Data Hub)
UPC Management:
Assist in assigning UPC numbers (GTINs) and calculating check digits
Assist assigning GTINs to outer packaging, when necessary
Provide template to add product data to GS1 data repository
Validate and upload UPC data to GS1 data repository
Facilitate Barcode Identification:
Single sheet of printed UPC labels is provided for each assigned UPC
Provide 1 digital barcode file for first UPC. Additional GS1 certified digital barcode files available from

www.createbarcodes.com

$10 each.

Assistance with barcode location for products and packaging
Assist with Amazon barcode label marking, when necessary
50% discount on standard UPC barcode testing fees.

(Standard fee $50)
CALL (800)662-0701 X220 or use CHAT BELOW
Information on Alternatives to GS1 for Obtaining UPC Barcodes
Please be advised that there are third-party companies on the internet who offer to sell single UPC bar codes for discount rates. Most of the main retailers will not accept their numbers since their supply chains are dependent on unique GS1 Company Prefixes. Quite SIMPLY, buying "upc barcodes" from any organization other than GS1 US puts you at risk for acceptance by retailers. There may be smaller retailers and online marketplaces which do not require a unique GS1 Company Prefix. However, if you plan on someday selling to any larger retailer in the future, you do not want to have your products marked with UPC barcodes which may not be accepted.
Most retailers have a formal policy regarding accepting UPC barcodes which are DIRECTLY assigned from GS1 US. The following list is just a small sampling of retailers who will only accept products with UPC barcodes and GS1 Company Prefixes assigned directly by GS1 US.
*The retailers listed have explicit instructions or guidelines on their supplier requirements. Most other retailers (small and large) simply request suppliers to follow GS1 guidelines and they are not aware of the damaging reseller market.
Wal-Mart
Kroger
Home Depot
Sears
Lowes
PetsMart
Whole Foods
Amazon
Best Buy
Nordstrom
Wegmans
CVS
True Value
Meijers
Kohl's
Macys
WalMart
JCPenney
Target
SuperValu
Dillards
Jo-Anne Stores
Michaels
Cabelas
Dicks Sporting Goods
SuperValu
If you are solely need a UPC for an online store (i.e.your website) you may be able to use an assignment from a reseller. Please visit www.singleupc.com .