GS1 Company Prefix Ownership
Validate GS1 Company Prefix Ownership
Due to online misinformation and growing number of unauthorized UPC resellers, the marketplace is polluted with UPC barcodes with duplicate GS1 Company Prefixes. Confused companies either make up UPC numbers or unknowingly buy UPCs from a company which is not GS1 US. Incorrect and duplicate GS1 Company Prefixes cause significant supply chain problems which can impact products, shipments and coupons.
Click on the link below to affirm the validity of the UPC ownership from a UPC (or GTIN). You can search by UPC (GTIN-12), EAN-8 (GTIN-8), or Carton Code (GTIN-14).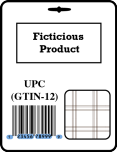 http://gepir.gs1.org/index.php/search-by-gtin/
Bar Code Graphics GS1 Barcode Services provide the necessary customer and technical support you need to properly identify and barcode your products. With 9 certified GS1 Barcode Professionals on staff, an in-house digital label printing department, and the only certified application to create precise digital barcode artwork, Bar Code Graphics is uniquely qualified to assist. Our GS1 Barcode Services include the following:
Expedite Obtaining GS1 Company Prefix:
· Obtain unique licensed GS1 Company Prefix to create UPC assignments
· Establish account at GS1 US Data Repository (Data Hub)
UPC Management:
· Assist in assigning UPC numbers (GTINs) and calculating check digits
· Assist assigning GTINs to outer packaging, when necessary
· Provide template to add product data to GS1 data repository
· Validate and upload UPC data to GS1 data repository
Facilitate Barcode Identification:
· Single sheet of printed UPC labels is provided for each assigned UPC
· Provide 1 digital barcode file for first UPC. Additional GS1 certified digital barcode files available from www.createbarcodes.com $10 each.
· Assistance with barcode location for products and packaging
· Assist with Amazon barcode label marking, when necessary
· 50% discount on standard UPC barcode testing fees. (Standard fee $50)
Bar Code Graphics is a certified GS1 US Solution Partner and we work with retailers and suppliers on GTIN compliance. If your company requires assistance, or would like to learn more about our programs, please send an email to sales@barcode-us.com .